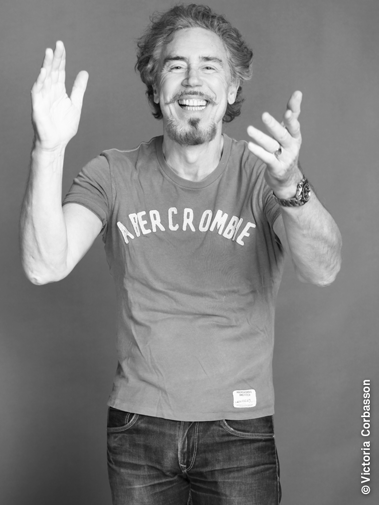 ABOUT
I'm coming from a family of artists: my grandmother was a singer, my mother a painter and my father an architect. It's my uncle Noney, a passionate of photography, who initiated me in an old cellar with the joy of the black and white development. That was when I have been only ten years old. From this magical moment on, this passion fully inhabited me and directed all my life ...
At sixteen my mother gave me my first Nikon and at eighteen I partnered with a friend to set up a photo studio in Brussels. The first years were quite difficult, photographing more often bottles of Campari or Dutch cheese than models. By dint of tests for the modeling agencies of Brussels, I ended up taking a beautiful place in the sun. One day a Parisian agent discovered me and made me go to Paris, where my international career began ...
It was in the years that followed that I met Olga Kurylenko. I was immediately dazzled by so much grace and pure beauty – the beginning of a beautiful friendship, which still lasts today.
Being 100% autodidact, I follow technical changes with enthusiasm, as I'm always curious to learn: after the digital revolution I now turn to the video technology – the new means of expression, which became accessible thanks to the technological advances.
I always try to establish a climate of trust between the subject and myself, in order to get him to let go – and thus get to capture the most beautiful aspects of his personality. It is by entering in symbiosis with my model, and by a common complicity, that we manage together to capture the magic moment!
By the way – I have been often told that I beautify all women, and for me that's absolutely the greatest reward!
CLIENTS

I collaborated with many magazines such as:
Amica . Anna . Cosmopolitan . Cento coses . De l'air . Donna . Elle . En Ville . Marie Claire . l'Officiel . Stern . Vogue Belgique . Votre Beauté…
Among my clients : Crait . C&A . Carina . Delvaux . El corte Ingles . Chantelle . Free . H&K . Irène van Ryb . La Perla . La Redoute . Lejaby . Olivier Strelli . Orange, Rasurel . Smalto . 3Suisses…
Captured stars : Olga Kurylenko, Eva Herzigova, Nicky Taylor, Camille Cottin, Brandi, Rebecca Romijn, Roberta Chicco, Albert de Monaco, Jean Pierre Marielle, David Mc Neil, Frankie Rader, Ana Beatriz Barros, Beri Smither, Viktor Lazlo…
— — — — — — — — — — — — — — — — — — — — — — — — — — — —

À PROPOS

Issu d'une famille d'artistes, grande-mère cantatrice, mère peintre et père architecte, mon oncle Noney, passionné de photographie, m'initia dans une vieille cave au joie du développement noir et blanc et ce dès l'âge de dix ans. Dès ce moment magique cette passion m'habita entièrement et dirigea toute mon existence…
À seize ans ma mère m'offrit mon premier Nikon et à dix-huit ans je m'associais avec un ami pour monter un studio photo à Bruxelles. Les premières années furent difficiles, photographiant plus souvent des bouteilles de Campari où du fromage de Hollande que des mannequins. À force de tests pour les agences de mannequins bruxelloises je fini par me faire une belle place au soleil. Un jour un agent parisien me découvrit et me fit monter à Paris, où ma carrière internationale débuta…
C'est dans les années qui suivirent que je rencontrai Olga Kurylenko. Je fut immédiatement ébloui par tant de grâce et de beauté pure, une belle amitié grandit, qui dure encore aujourd'hui.
Etant à 100% autodidacte, je suis les changements techniques avec enthousiasme, ayant toujours la curiosité d'apprendre, et après le numérique je me tourne actuellement vers la vidéo – nouveau moyen d'expression devenu accessible grâce aux avancées technologiques.
Je tâche toujours d'instaurer un climat de confiance entre le sujet et moi-même, de façon à l'amener à lâcher prise, et arriver ainsi à capturer les plus beaux aspects de sa personnalité. C'est en entrant en symbiose avec mon model, et par une complicité commune, qu'on arrive ensemble à capturer le moment magique!
On me dit d'ailleurs fréquemment que j'embellis toutes les femmes, et c'est pour moi la plus belle des récompenses !
CLIENTS

J'ai collaboré avec des nombreux magazines tels que :
Amica . Anna . Cosmopolitan . Cento coses . De l'air . Donna . Elle . En Ville . Marie Claire . l'Officiel . Stern . Vogue Belgique . Votre Beauté…
Parmi mes clients : Crait . C&A . Carina . Delvaux . El corte Ingles . Chantelle . Free . H&K . Irène van Ryb . La Perla . La Redoute . Lejaby . Olivier Strelli . Orange, Rasurel . Smalto . 3Suisses…
Les stars capturées : Olga Kurylenko, Eva Herzigova, Nicky Taylor, Camille Cottin, Brandi, Rebecca Romijn, Roberta Chicco, Albert de Monaco, Jean Pierre Marielle, David Mc Neil, Frankie Rader, Ana Beatriz Barros, Beri Smither, Viktor Lazlo…